had been sleeping on the public bus on my way home...
AGAIN
gila lama2 gw kebawa ampe ciganjur juga gara2 ktinduran mulu >____>;;;
well anyway otanjobi omedetou for
gunfair
!! XD
and below ish the giftarts~ XD for
rions
;_________; i'm sorry for the LATE~ !! DDDDX;; blame the pile of assignments on my room >__________>"
actually i wanna make a giftart for
ravient
too.. but i don't have many time DDDX;; tomorrow, maybe :D;;;
and gawd i just realized that so many sagitarius people in my live DDDDXX;;; just lyk picses, actually.. *include me :D;;;*
HAPPY BURZDAY
again XD;;
gunfair
~~ XDDD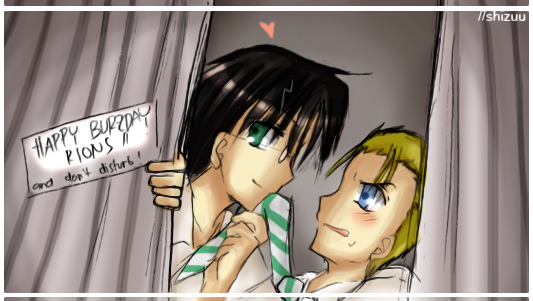 HAPPY
belated
BURZDAY
rions
XDD;;;;
may you two have a longggg age~ and all the good things X333;; *i'm not good at giving pray*
and i'm sorry for this
ugly
messy pics ~______~;; *i rlly hate CG.. >_>*
Current Music: I Wish - Maeda Ai